Celebrating Over 25 Years Servicing
Kamloops & Western Canada

Celebrating Over 25 Years Servicing
Kamloops & Western Canada

Trak Tech Equipment Ltd. is located in the heart of Kamloops. With a solid reputation for doing great business, the Trak Tech yard is a welcome permanent landscape attraction.
Trak Tech Equipment Ltd. is a family owned business founded in 1992 by partners Carl Zurowski and his two sons Chad and Regan Zurowski. Carl had 40 plus years experience in the heavy construction and logging equipment industry, including 30+ years as owner of a Caterpillar dealership in Prince Albert, Saskatchewan. After Carl's passing in 1998, Chad and Regan have continued to run the business with the same integrity and commitment to their customers that their father had instilled in them.
Today, Trak Tech Equipment is known for its high quality fleet of construction rental equipment, its full line of undercarriage parts, and quality workmanship that its full service undercarriage shop turns out.
With over 50 years combined experience in the industry and over 95% repeat business, Trak Tech's customer base continues to grow and stretches from BC into Alberta and the Yukon.
Take a look at what a few loyal customers have to say about Trak Tech's service:
Tyler Schell, Fleet & Logistics Manager – INFRACON – LNB CONSTRUCTION
At LNB Construction, we carry out a wide range of projects including heavy civil construction, oil and gas, mining and crushing among others. In today's competitive market, one thing that sets us apart from our competitors is our ability to provide a wide range of services, adapt to changing conditions, and re-deploy at a moment's notice to meet our client's needs.
We need to exceed expectations in a timely fashion and provide exceptional value – and one of the ways we are able to do this is by aligning ourselves with suppliers that enable us to do so.
Trak Tech Equipment is one of the suppliers that we choose to align ourselves with because we share many of the same values. Like us, they believe in hard work, fair value, and doing it right. As such, they have a fleet of the right equipment which is outfitted the right way to meet our needs. Common lugging, safety equipment (Pos Air/Strobe/Fire Ext etc) and exceptional quality are what we have come to expect from Trak Tech. When we need gear, we know we can contact Chad and Regan and they will do what needs to be done to meet our equipment needs. Their gear is well looked after, late model, and reliable for the most discerning clients.
Darren Kashluba, KASH CONTRACTING LTD.
Kash contracting has been operating as a logging contractor for over 30 years in the Thompson/Nicola region supplying timber to many of the local sawmills. Over the years we have come to rely upon the services of Trak Tech Equipment to supply and install undercarriages on many pieces of our logging equipment. They have provided service and repairs to all our equipment including fellerbunchers, loaders, dozers and processors. In my opinion Trak Tech's knowledge and attention to details in the parts and service work they're providing sets them apart from others. Their shop is always very clean and organized and is a direct reflection of the quality workmanship they are turning out. We have used Trak Tech for years and will continue to do so.
Kent Wallace, WALLACE TRUCKING LTD.
Trak Tech Equip. has been there for us over the last 15 years supporting our undercarriage and equipment needs as we have gone from logging operations to forestry road construction and maintenance. Throughout this time we have relied upon there great service and exceptional workmanship, we would strongly recommend using Trak Tech for any of your equipment needs.
Chad Zurowski with Ron Wallace of
RON WALLACE TRUCKING LTD.
Derek Stamer, STAMER LOGGING LTD.
Stamer Logging has dealt with Trak Tech Equipment for 20+ years. We have purchased undercarriages and have had them installed on many of our track machines. Their service and workmanship have always been excellent. We recently began to use Trak Tech for machine rentals on short term projects and have found their rental equipment to be top notch and their pricing very competitive. I would highly recommend Trak Tech to work on running gear and for machine rentals.
With the most complete undercarriage service facility in BC, we can satisfy any of your undercarriage service needs.
Pin and bushing turns
Track pad Re & Re
Idler rebuilding
Track adjuster repair
Track frame rebuilding
Rock guard manufacturing
TRACK PRESS
(CAT D7R pin & Bushing)
IDLER REBUILDER
(Rebuilding front idler of crawler tractor)
We also do a full complement of heavy duty mechanical repairs.
We pride ourselves on doing the job right the first time and on budget. Contact us for any of your service needs.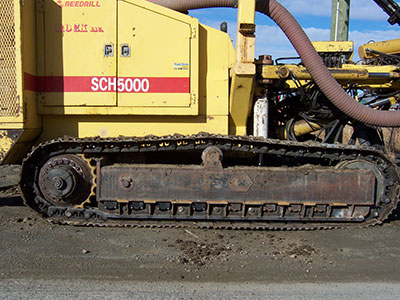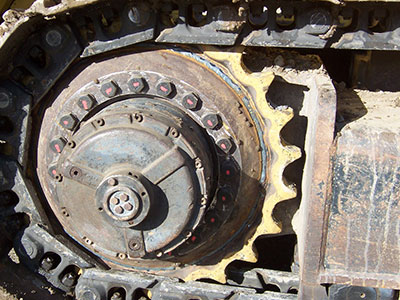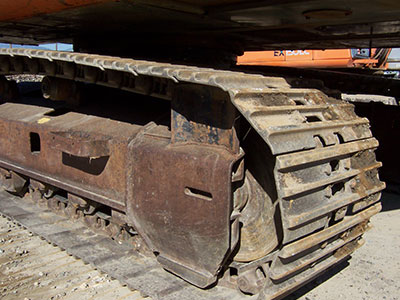 594 Chilcotin Road, Kamloops, BC V2H 1G5